Thanks UT and Alfalink for giving us opportunity to improve our skill on IELTS. Here is my attempt on Writing Task. I'm not really satisfied with the result, talking about other meeting (yes, curriculum meeting + IELTS zoom) and stuff (workload). However, I'm quite happy because I can finish it in 20 minutes. I realize that it is super difficult to find synonym or similar vocabularies for certain words. Well, we don't want to make a boring essay, right?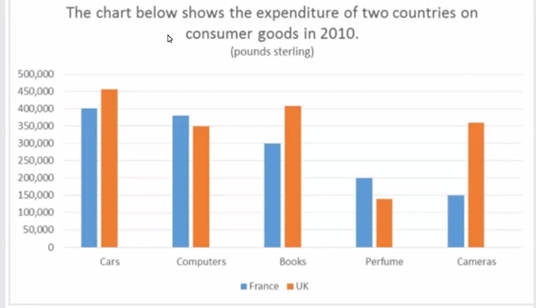 The chart shows the expenditure on consumer goods in France and UK in 2010. The highest consumption in both countries is for the cars. Meanwhile, the lowest number in consumer goods in UK is perfume and in France is cameras.
In France, people spend around 400,000 pounds sterling for cars, making it the highest consumption in the country. However, this amount is not as big as in the UK. The second most expenditure is on computers that is around 380,000 pounds sterling. Another good that France citizen most likely to buy is books with the expenditure around 300,000 pounds sterling and perfume with 200,000 pounds sterling.
The condition in the UK is almost the same with France where people spend more on cars with more than 450,000 pounds sterling. However, people in the UK spend around 410,000 pounds sterling for books, unlike France who most likely to spend less than 300,000 pounds sterling. The smallest amount is for the cameras that is one third of the spending on books.
169 words
I think about updating the score after the tutor review this writing.